Dukan diet: Should I try it?
Dukan diet: Should I try it?
The Dukan Diet is a protein-based nutritional approach designed by Pierre Dukan, a French nutritionist and dietitian.
Also known as the Dukan method, this diet proposes a healthy eating plan based on how primitive hunter-gatherers used to eat.
It includes 100 foods, of which 72 are sourced from animals and 28 come from plants. The person can eat as much as they like, as long as they only eat those 100 foods.
The diet has caused some controversy, and its benefits are not confirmed by research.
What is the Dukan diet?
Salmon, broccoli, Brussels sprouts and tomato can be eaten in the cruise phase of the Dukan diet.
The Dukan diet is based on the theory that a lot of protein can help people lose weight because:
it is low in calories

it makes a person feel full

digesting protein uses more energy and therefore more calories
Restricting the intake of carbohydrates and fats puts the body induces a starvation-like state, which forces the body to use fat stores for energy.


Phases of the Dukan diet
There are four phases to the Dukan diet. The Attack phase, the Cruise phase, Consolidation, and Stabilization.
The diet focuses on natural, rather than packaged, foods. It also encourages physical activity.
Attack phase
The Attack phase aims at rapid weight loss: from 2 to 3 kilograms, or 4.4 to 6.6 pounds, within 2 to 10 days. It is said to be a way of kick-starting the metabolism.
The dieter can choose from 68 proteins, but they can only eat lean protein. The amount is unlimited. There is no calorie counting. The protein can be any kind of beef, fish, chicken, eggs, soy, and cottage cheese, but it must be low in fat. The dieter must avoid meats with added sugars.
The dieter also consumes at least 1.5 tablespoons of oat bran, the only carbohydrate source allowed in this phase.
Oat bran is very high in fiber, so a large proportion of the carbohydrates cannot be broken down and digested. This makes oat bran less carbohydrate-rich than other sources of carbs. Oat bran also helps suppress hunger, because it expands to up to 20 times its size in the stomach.
The person must consume at least 1.5 liters of water each day. They should exercise for 20 minutes every day.
Cruise phase
This phase aims to help the dieter achieve their target body weight more gradually, by adding 32 specific vegetables to the diet. Fruit is not allowed.
Oat bran is the only source of carbohydrate in the Attack phase of the diet.
During the cruise phase, the person normally aims to reduce weight by around 2 pounds a week.
If the individual wishes to lose 30 pounds, this phase will last for 15 weeks, but if they want to lose 5 pounds, it will last 10 weeks.
A number of different foods can be eaten, but if they lead to weight gain, they will be banned.
The dieter can eat unlimited amounts of low-fat protein, as in the Attack phase, and unlimited amounts of non-starchy vegetables, such as spinach, okra, lettuce and green beans.
However, they will alternate the intake of lean protein and vegetables, so that on one day they will eat just lean protein, and on the next, they will eat lean proteins combined with unlimited low-starch vegetables.
The dieter will continue to consume 1.5 liters of water and one tablespoon of oat bran each day.
Carrots, corn, and peas are starchy vegetables. They are not allowed.
The dieter should exercise for 30 minutes each day.
Consolidation phase
In the consolidation phase, the person aims not to lose weight, but to avoid regaining it.
Every day, the individual can now consume:
unlimited quantities of protein and vegetables

one piece of low-sugar fruit

one portion of cheese

two slices of whole-grain bread
The dieter can have one or two servings of starchy food and one or two celebration meals each week. In a celebration meal, people can eat whatever they want.
During this phase, the dieter starts eating the core diet of pure protein one day each week, preferably on the same day of each week.
This phase involves 25 minutes of exercise a day.
Stabilization phase
This is the long-term maintenance part of the plan. The person should not expect to lose or gain weight.
People can eat whatever they want, as long as they follow some simple rules:
One day each week they must have an all-protein day, as in the Attack phase

Eat three tablespoons of oat bran each day

Exercise for 20 minutes each day

Never take escalators or elevators
The stabilization phase is a long-term plan that becomes part of the person's lifestyle.
Dieters are allowed to consume artificial sweeteners, vinegars, sugar-free gum, and spices. They are also advised to take multivitamins with minerals.
Cooking ideas
Prawns can be eaten marinated with lemon and grilled with herbs.
As many items are restricted, the dieter may need some creative ways to make food tasty.
Here are some ways of enhancing dishes:
Grill meats and fish instead of frying

Use marinades of lemon or soy sauce instead of sauces

Use spices and herbs for flavor, for example, shrimp with ginger, chicken with cinnamon

Replace cheese with silken tofu or fat-free cheese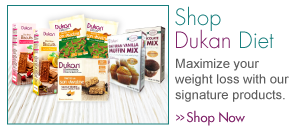 How does the Dukan diet differ from Atkins Diet?
The Dukan diet website explains that there are some similarities between the Dukan Diet and Atkins, as they both involve a low consumption of carbohydrates.
However, there are some key differences.
In the Dukan diet, there is no counting of calories, carbs, or other nutritional values

The Dukan diet offers a list of 100 foods, plus some other items in the last phase

The Dukan diet concentrates on low-fat protein, including non-fat dairy products but Atkins has no limits on dairy fats, meat fats, or any saturated fats

Atkins recommends shakes, bars, and other packaged foods, but Dukan emphasizes 100 natural foods

Consumption of items from the list of 100 proteins and vegetables is unlimited

Coaching, in the form of a personalized interactive plan, monitors the person's progress on a daily basis
How good is the Dukan diet?
Critics of the diet point out that since the diet bans certain food groups, such as grains and fruit, it is nutritionally incomplete.
Evaluators have also criticized it for being difficult to follow and inconvenient, as everything must be prepared from scratch.
Other problems include the following:
The initial weight loss is mainly water

Lean protein, such as meat and fish, can be expensive

The rules are strict and the choices can be boring, so it is hard to follow
The United Kingdom's (U.K.'s) National Health Service (NHS) comments:
"Ultimately, a diet that is as restrictive as the Dukan Diet will result in weight loss simply due to a calorie deficit as a result of limited food choices, boredom and lack of enjoyment from eating."
A rodent study carried out by researchers at the University of Granada in Spain has suggested that a high-protein diet may lead to kidney disease in the long term.
So far, no research has proven that high-protein diet such as the Dukan diet is safe or effective.
The Dukan diet website advises anyone who is thinking of starting the diet to speak to their doctor first.
---
For More information and details Please check these books!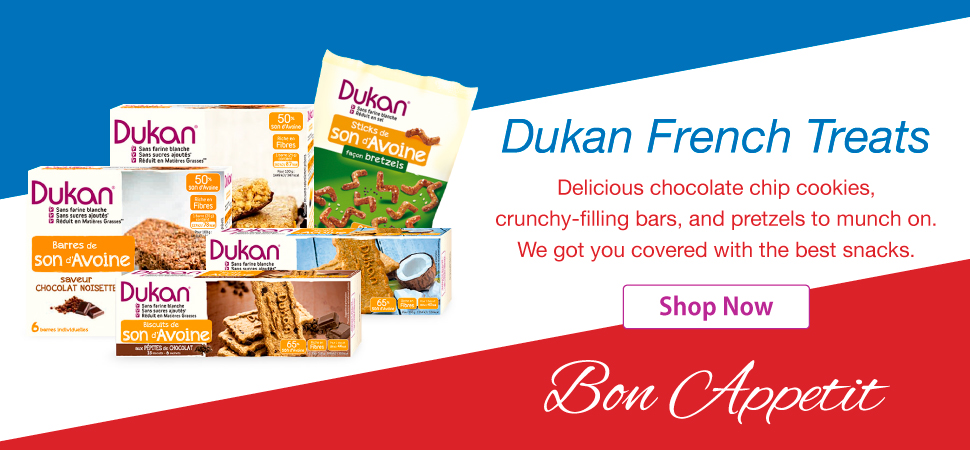 ---
---